Federal Medical Center
2110 East Center St
Rochester
MN
55904
United States
About Federal Medical Center
Our staff are valued.
Hard work and dedication are rewarded with great benefits.
Our staff are family.
Our long-standing culture of being a close-knit family sets us apart from other agencies - at the BOP you don't just get to know your coworkers, you make life-long friends. And as a close family, we are always there for one another especially when someone is in need. Our agency has several formal programs that exemplify this close bond: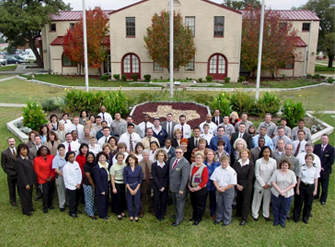 Co-Worker Emergency Fund
Employees can establish a fund to assist other staff members during financially damaging tragedies.
Voluntary Leave Transfer Program
Employees can donate their annual leave to other staff members who are experiencing a medical emergency.
Employee Assistance Program
Staff and their dependents who are experiencing personal problems in their life are eligible to talk with a licensed, certified counselor for up to 6 sessions per problem per year.
Our staff are giving.

We have a long history of giving to the communities that we serve. Our staff participate in various programs and activities by allocating time, resources, and money to help others in need.

Combined Federal Campaign (CFC)
Every year during the CFC campaign season, many BOP employees make contributions through the CFC Program, the world's largest and most successful annual workplace charity campaign.
Points of Light Foundation
The Points of Light Foundation, the world's leading volunteer organization, has recognized numerous BOP staff for their outstanding support and volunteer efforts with theDaily Points of Light Program.
We are also involved in:
community-based crime prevention
drug intervention programs
faith-based and community organization programs
collection programs for the homeless
blood drives
This employer is not currently advertising. Why not try our job search?