Federal Medical Center
2110 East Center St
Rochester
MN
55904
United States
Tel: 507-424-7520

About Federal Medical Center
Our staff are valued.
Hard work and dedication are rewarded with great benefits.
Our long-standing culture of being a close-knit family sets us apart from other agencies - at the BOP you don't just get to know your coworkers, you make life-long friends. And as a close family, we are always there for one another especially when someone is in need. Our agency has several formal programs that exemplify this close bond: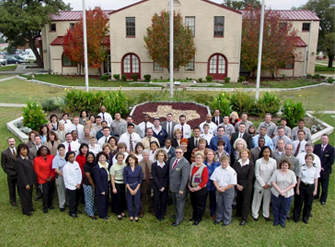 Co-Worker Emergency Fund
Employees can establish a fund to assist other staff members during financially damaging tragedies.
Voluntary Leave Transfer Program
Employees can donate their annual leave to other staff members who are experiencing a medical emergency.
Employee Assistance Program
Staff and their dependents who are experiencing personal problems in their life are eligible to talk with a licensed, certified counselor for up to 6 sessions per problem per year.
Our staff are giving.

We have a long history of giving to the communities that we serve. Our staff participate in various programs and activities by allocating time, resources, and money to help others in need.

Combined Federal Campaign (CFC)
Every year during the CFC campaign season, many BOP employees make contributions through the CFC Program, the world's largest and most successful annual workplace charity campaign.
Points of Light Foundation
The Points of Light Foundation, the world's leading volunteer organization, has recognized numerous BOP staff for their outstanding support and volunteer efforts with theDaily Points of Light Program.
We are also involved in:
community-based crime prevention
drug intervention programs
faith-based and community organization programs
collection programs for the homeless
blood drives
What is the current company culture like? The typical culture throughout the Bureau of Prisons is positive. Even through this unprecedented time due to the COVID-19 Pandemic, the culture at FMC Rochester is good. Staff at FMC Rochester work hard and work well together. Everyone has stepped up to ensure everything runs smoothly.
What skills, education, and experiences does your ideal candidate(s) have? There are so many different career opportunities at FMC Rochester, that the skills, education, and experiences needed vary. The best thing to do, is to research vacancies on www.usajobs.gov or call the Human Resources Department directly at 507-424-7520.
How would you describe the company leadership/team management? All 122 Bureau of Prisons institutions have a similar management structure, which ensures consistency and that best practices are implemented. At FMC Rochester, the Executive Staff is supportive and their main goal is for staff to succeed in their career.
Where do you see the company/organization in the upcoming years? A career with the Federal Bureau of Prisons is not only rewarding, but it also comes with some of the greatest job security in any field. The Bureau of Prisons is thriving and will be around for decades to come.

What do you feel candidates need to know about the company before applying? Although the application process is arduous, the Human Resources Department is willing to help candidates through the process. If you are unsure about a career at FMC Rochester and with the Federal Bureau of Prisons, please contact the Human Resources Department at 507-424-7520 to discuss any concerns.
1 job with Federal Medical Center
Rochester, MN
Negotiable
Federal Medical Center

Federal Medical Center Open positions for Correctional Officers and in the healthcare industry.